[ad_1]

Rare infrared helicopter footage of a man being arrested in a front yard has been released as Victoria
Police
crackdown on criminals transporting drugs and weapons on the roads.
The footage shows an overheard view of police swarming on a man hiding in a bush in a front garden in Coburg, in Melbourne's north.
The man's arrest was one of seven arrests that occurred in Melbourne between Friday, August 19 and Sunday, August 21 as part of Operation Hornets, which involved police air wing and the dog squad.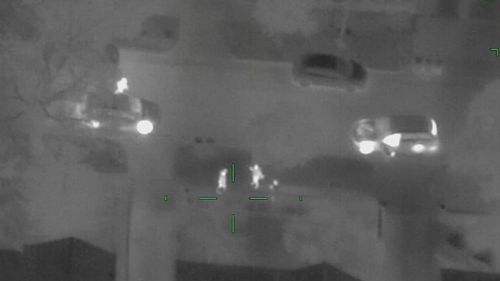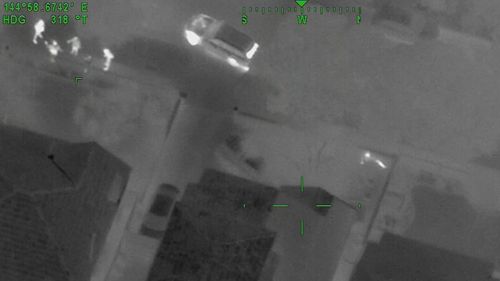 The three-day blitz led to hundreds of vehicles being checked and more than 25,000 number plates scanned by Automatic Numberplate Recognition Technology.
Police were searching for anyone with links to serious crime, those with a history of dangerous driving behaviour and people subject to Firearm Prohibition Orders.
Officers came across substances believed to be drugs, imitation firearms, people driving on drugs and also impounded a number of vehicles.
North West Metro Regional Crime Inspector Patrick Watkinson said police were constantly creating new strategies to disrupt criminals.
"Anyone who makes a conscious decision to evade police can expect to receive our full attention – we have eyes in the sky and on the ground to track cars that drive off from police," he said,
"When offenders are identified, we respond en masse and ensure they are swiftly arrested for any offences, whether it's carrying illegal weapons or drugs, evading police or speeding."
[ad_2]

Source link