[ad_1]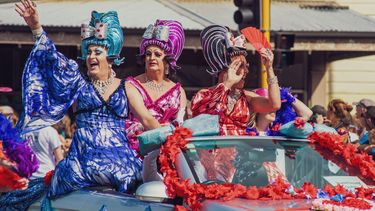 Op 30 juli gaat de Pride weer van start en halen Amsterdam, haar inwoners en ook haar restaurants alles uit de kast. Regenboogkleuren, confetti, gezelligheid en bijna tien dagen lang feest: het klinkt als muziek in onze oren. Culy zocht uit waar je in de stad de leukste culinaire activiteiten kunt ondernemen en welke restaurants de bloemetjes deze dagen eens extra buiten zetten.
Culinaire activiteiten tijdens de Pride
Deze lijst wordt de komende tijd nog aangevuld. Tips? Mail de redactie: [email protected] 
Don't Stop Until You're Proud bij INK
Het INK Hotel Amsterdam pakt tijdens de Pride altijd helemaal uit. Zo ook dit jaar met het Don't Stop Until You're Proud-feest. Het hotel verandert voor even in het PINK Hotel Amsterdam met een speciale INKlusivity-suite en in het restaurant van het hotel – Pressroom Amsterdam- kun je genieten van een speciaal pink chef's menu.
Bestel een Pink Gin & Tonic aan de bar of ga helemaal uit je dak in het weekend van 30 en 31 juli en 6 en 7 augustus tijdens de Bottomless Brunch (hadden we al gezegd dat je onbeperkt roze bubbels krijgt?). Na twee jaar corona is PINK terug, en beter dan ooit.
Bobby's Gin in Vesper
De aftrap van de pride vieren we dit jaar bij Vesper. En wel met een heus Bobby's (gin) feestje met een speciale cocktail die is geïnspireerd op het Milkshake festival. Meer info moet nog bekend worden, maar wij zeggen: zetten 'm alvast in je agenda.
Kleurrijke afternoon tea bij The Duchess
Naast alle grootse en meeslepende festiviteiten, kun je de Pride ook rustig en intiem vieren. Elk jaar organiseert de chique hotspot The Duchess in het W Hotel een Gay Pride Afternoon tea. De beroemde Afternoon Tea & Chocolate Explosion wordt kleurrijker dan ooit en alle delicatessen hebben íéts van de regenboog in zich. De afternoon tea start volgens Brits gebruik hartig, waarna de scones en champagne volgen. Hierna komen de zoetigheden op tafel en is het feest helemaal compleet.


[ad_2]

Source link