[ad_1]

The next week will be cold, windy and rainy as a "conveyer belt of cold fronts" sweeps over south east Australia, plunging temperatures and putting multiple states on alert once again.
Weatherzone said there will be "one cold front after another for at least the next week", renewing the risk of flooding in already saturated areas.
"Adelaide, Melbourne, Hobart and Canberra – and everywhere in between – can expect a persistent spell of blustery, cool to cold, showery weather – with the first burst on Thursday into Friday morning," the weather service wrote.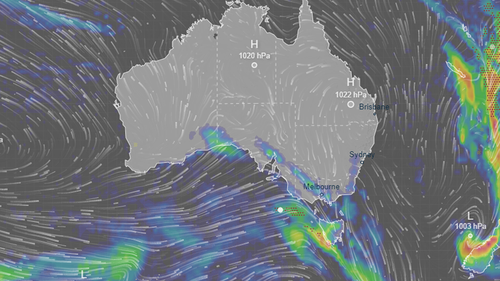 Bureau Meteorologist Jonathan Howe said the first cold front, expected to hit today, will bring strong winds and rain.
"With the landscape already wet and some rivers already in flood there is a risk of renewed flooding for parts of NSW, Victoria and Tasmania" he said.
"Into Thursday morning we see showers start to pick up across parts of central Victoria and the rest of Tasmania and into Thursday night we do see rainfall increasing across parts of north east Victoria into southern NSW.
"Behind it with this very cold air we could see thunderstorms, local hail along the south coast including for Melbourne."
Showers will continue to push through NSW into Friday, before a "second colder" front pushes across the country on Saturday.
Weatherzone said "the coldest outbreak of the period (is) looking increasingly likely to arrive early next week.
A number of severe weather alerts and flood warnings have been issued with residents urged to stay across alerts.
[ad_2]

Source link